We have a brilliant line up for our opening night.  Dress in your 20's best and join us for a little tipple in our fav gin joint.
Your hostess with the mostest on the night is the wonderful
Chanteuse with the Caboose, Ruby Noir is a singer, compére, and burlesque & cabaret artist. A dilettante of the stage, she has been making a nuisance of herself for over a decade.
Ruby was Miss Pinup Ireland 2017 and first runner up Miss Pinup International 2017. She is one half of acoustic duo Lady K & Ruby Noir an original cast member of queer cabaret troupe UnderCURRENT.
As one-half of The Brush Out Bombshells, she teaches traditional vintage hair techniques and shares her passion for pinup perfection.
She is also a co-host of the Giving Me Life Podcast.
She can always be found with a show tune in her heart and a sequin (or a hundred) on her sleeve
A line up full of Award winning acts…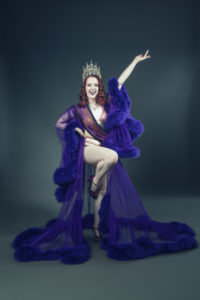 The "Beauty, Grace and a whole lot of Face" of Irish Burlesque, Bella Curve is a multi-award winning, soon to be international burlesque star with unparalleled elegance! Bella is very excited to start taking the world by storm with her international debut next month in Rome.
 A classically trained ballerina who has traded her tutu for tassels, her work is a fusion of dance styles that never fails to excite and delight her audience. Performing burlesque since 2016, Bella is now the reigning Miss Burlesque Ireland.
Expect a derrière covered in rhinestones and feathers from this one as she tantalises and teases you with her seductive charm.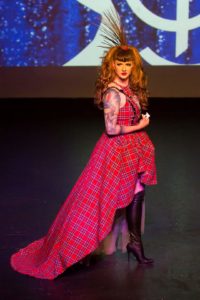 The love child of Liz Lemon and the Area 51 raid, Calamity Sparks has been underwhelming audiences since she was born.
Inspired by the writings of Virginia Woolf, the musings of Friedrich Nietzsche, and the dignity and gravitas of Destiny's Child's "poor Michelle", Calamity is 50% public indecency, 30% mediocrity, and 20% copyright infringement. She'll leave you asking "….wait, haven't we seen a better version of that before?".
Calamity is the current reigning Miss Burlesque Dublin, previous winner of the Twisted Star of the West at the Galway Burlesque Festival, and a constant disappointment to her parents.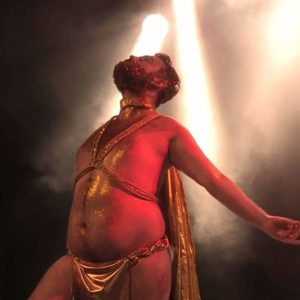 Brian Bearú is the self proclaimed high king of Ireland. The first runner up of the inaugural Mr Boylesque Ireland! Fresh off performing with that Dirty Circus at the new Cabaret stage of Electric picnic and launching the first Seomraí Bearú he is delighted to perform at Dublin Burlesque Festival.  Hold on to your seats folks! This bear is going to Knock your socks off🐻